Dental Bridges: What Are They and Will They Work Well for Your Needs?
March 8, 2021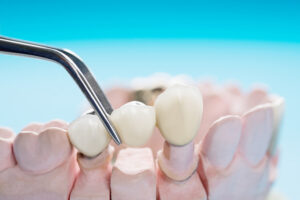 There have been many advancements in cosmetic dentistry in recent years, including better porcelain fixed bridges. This can be a great option for people who are missing several teeth. Keep reading to learn what this option involves, and then contact California Dental Group at (800) 407-0161 to talk to a dentist about the best option for your specific situation.
What Dental Bridges Work For – And What They Don't Work For
Dental bridges are good when you have several teeth missing. In other cases, if you have just one missing or damaged tooth, then a crown or dental implant might be a better option. However, if you have lost several teeth in one spot, whether due to decay, injury, or any other reason, then the dental bridge can be the right choice.
The Importance of a Dental Bridge
A dental bridge replicates the look of your missing teeth so that it looks as though you have all your teeth. Remember that if you have gaps between your teeth and you do not do anything to replace them, then your other teeth will begin to slide over. This can lead to additional tooth loss and uncomfortable changes to your natural bite. This is just one of the reasons to choose a dental bridge rather than ignoring the issue.
From Partial Dentures to Dental Bridges
In the past, when a person was missing several teeth in a row, the best option was to use a partial denture. Those can indeed be effective, but they can also be very uncomfortable to wear. As time goes on, they get more and more uncomfortable. Today's patients report that dental bridges are much more comfortable.
The Way a Bridge Works
Imagine that your tooth bridge is a series of teeth that are connected. The bridge is placed over the gap between teeth and is attached permanently to the permanent teeth that it is filling in. Your current permanent teeth will be reduced in size so that the bridge can fit over them and to ensure that the bridge will be secure. The crowns on the bridge are then molded and colored so that they fit in seamlessly with your smile.
Dental Bridges Can Last Forever
If you properly care for your dental bridge, it can last for a lifetime. If you do not care for it correctly, then it can eventually fall out. It is up to your dentist to make sure that you understand the ins and outs of proper care. Contact California Dental Group at (800) 407-0161 if you are interested in learning more about your dental bridge options.