Dental Implant in Alta Loma CA
Getting a dental implant in Alta Loma CA provides the most advanced therapy for a missing tooth
Expires on May 31, 2020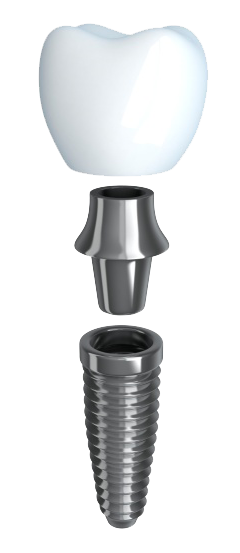 If you have lost a tooth due to age, accident, or tooth decay, getting a dental implant in Alta Loma CA can provide a durable, comfortable, and beautiful solution. Dental implants offer patients tons of advantages, especially when compared to other methods of tooth replacement. For instance, implants help with:
Permanently replacing a missing tooth
Preventing bone loss around the lost tooth
Providing patients with the confidence of a natural tooth
Avoiding shaving down neighboring teeth for a bridge
Allowing patients to eat and speak normally
What is a Dental Implant?
A dental implant is basically a porcelain or ceramic crown mounted on a titanium peg that has been surgically implanted into the jaw. Thanks to the process of osseointegration, your jawbone will actually bond with the titanium peg when you get your dental implant in Alta Loma CA, strengthening your jaw in a way that no other method of tooth replacement can.
Why Choose Us for Your Dental Implant in Alta Loma CA
Dental implants are more common these days, but they are far from being a new technology. Dental implants have been around for over 30 years and plenty of research has shown that they are safe and effective in replacing missing teeth. Still, you want to make sure you are working with an expert restorative dentist when getting your dental implants. As a leading provider of dental implants, you can trust California Dental Group to provide superior care and treatment throughout the entire process of getting your implants. And because we have an excellent crown provider, you can rest assured that the finished implant will not only fit your bite perfectly but also look totally natural. Contact us today to find out if you are a good candidate for a dental implant in Alta Loma CA.
---
Call your local dentist in Alta Loma at
(909) 939-8022
---
Request an Appointment
Office Locations

Glendale
609 S. Glendale Avenue
Glendale, CA 91205
(818) 574-3098
More Information

Los Angeles
4701 Eagle Rock
Los Angeles, CA 90041
(323) 204-3120
More Information
Montrose
2101 Broadview Dr.
Glendale, CA 91208
(818) 743-4080
More Information
North Hollywood
10400 Magnolia Boulevard
North Hollywood, CA 91601
(818) 741-3954
More Information

Tustin
13011 Newport Ave., Suite 205
Tustin, CA 92780
(714) 316-0903
More Information

Upland
930 W. Foothill Blvd., Suite D
Upland, CA 91786
(909) 939-8022
More Information
Whittier
14322 Telegraph Rd., Suite A
Whittier, CA 90604
(562) 735-4992
More Information
Riverside
1717 Third St
Riverside CA 92507
(951) 292-4488
More Information
San Bernardino
1666 Medical Center Dr. Suite #3
San Bernardino, CA 92411
(909) 252-7330
More Information
South Gate
5841 Firestone Blvd. Suite C
South Gate, CA 90280
(562) 352-8500
More Information