Tired of Yellow Teeth? Learn What Causes Teeth Yellowing and How to Fight It
February 26, 2018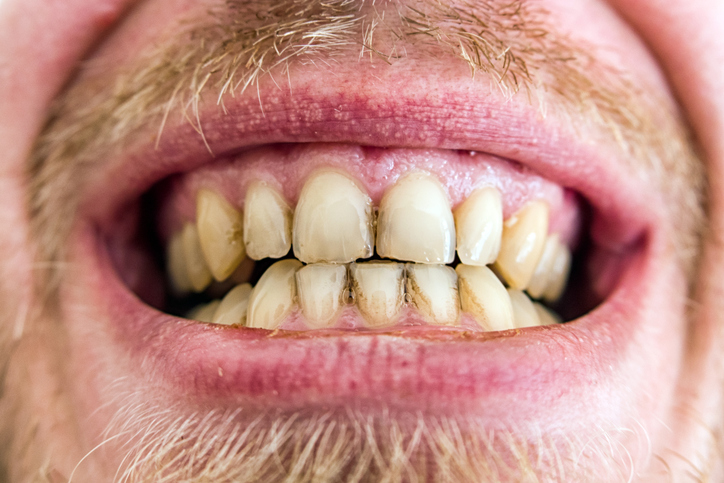 Experiencing yellowing teeth isn't an uncommon problem but that certain doesn't mean it's not embarrassing. If you find yourself unhappy about your smile then there is good news for you. At California Dental Group, we offer numerous teeth whitening options that can get your teeth back to great shape in no time. Read on to learn more about the ways your teeth became yellow in the first place and then give us a call at (800) 407-0161 to find out how we can help.
Bad oral hygiene can increase yellowing
One of the most common reasons a person has yellowing teeth is because they're not taking good care of their teeth. If you're not brushing and flossing daily then it's likely your teeth are more yellow than someone who does. A good toothpaste keeps your teeth white and if you're not brushing then you're not getting this added benefit.
This is a simple problem to solve: Start a healthy at-home oral care regimen. Start by getting good-quality toothpaste, a toothbrush with soft bristles, and floss. Brush your teeth at least twice a day for two minutes each time. Flossing should take around two minutes per day as well. If you add in 30 seconds or rinsing with a mouthwash, you'll spend less than ten minutes for a whiter smile.
Bad habits can cause your teeth to yellow
There are many bad habits that can result in yellower teeth. Some foods, specifically sugary and carb-heavy foods, are likely to stay in your mouth until they're brushed away. This allows bacteria to grow, which will eventually yellow your teeth. Some beverages can stain your teeth as well, including coffee, tea, and wine. If you drink any of these, or eat these high-risk foods, just carry a toothbrush with you and brush after eating or drinking them.
Smoking is another bad habit that can yellow your teeth. The truth is that while brushing and flossing can make a small difference, your teeth are going to be stained as long as you continue to smoke tobacco. We recommend that before you quit, you take a picture of your smile. Then take one two months later and you'll be shocked at what a difference it can make.
Our teeth yellow as we age
It's just a fact of life: As we age, our teeth are likely to become more yellow. There isn't much you can do to prevent it entirely but you can take care of your teeth to ensure the yellowing is kept to a minimum. There are also cosmetic dentistry options that could transform your smile, such as veneers that go over the top of your teeth.
If you're concerned with the way your teeth look then it's time to talk to a dentist. It's easy to get in touch with a local office of California Dental Group of (800) 407-0161. Just give us a call at (800) 407-0161 and we'll get you scheduled in no time.